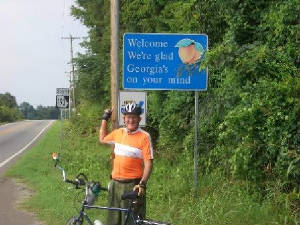 You guessed it. The Georgia state line.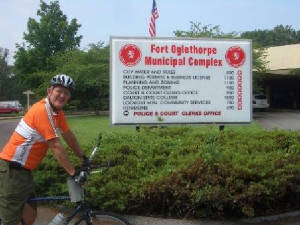 Fort Oglethorpe, Georgia. Wow it is hot out here.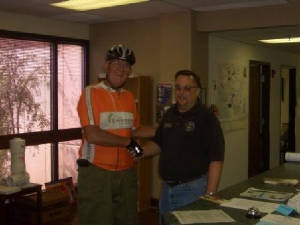 Oglethorpe, Ga...Mike Stewart was so busy we caught him in the hall for a photo. Fuller Center data delivered.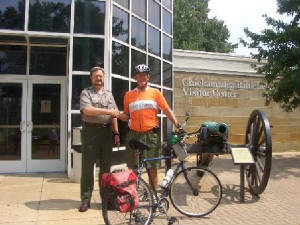 The batllefield of Fort Oglethorpe director gave us a warm reception.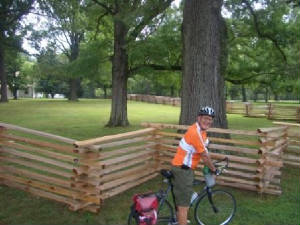 The rail fencing lined both sides of the highway throughout the battlefield.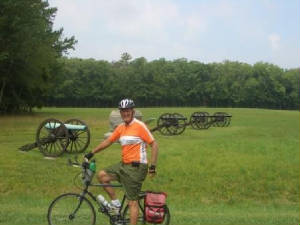 The smell of death was not as strong as when I was in Gettysburg, but it felt the same.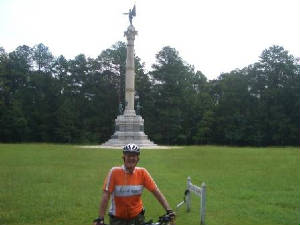 The monuments and markers are reminders of our past not to be repeated in our future.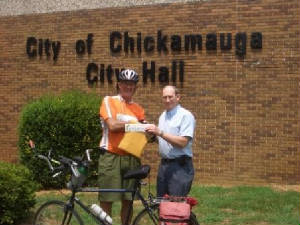 Chickamauga, Ga...My new found friend Jim Powell. This man was amazing. He educated us processed our photos and showed us true southern hospitality. Thanks.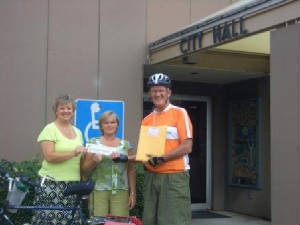 LaFayette, Ga... We were welcomed by Doris Greene and Brenda Anderson and they like the Fuller message.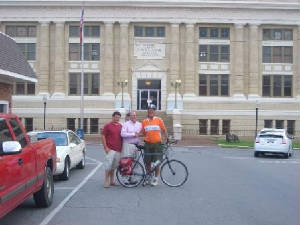 Hospitality in the south. David Gottlieb and his son said we should eat at C.J.s and we did. The local editor Larry Brooks did a story on us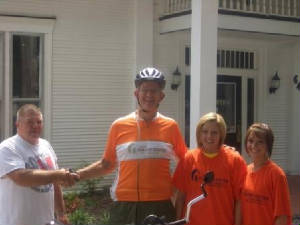 C.J.s the best food in the South. Pictured Rebecca Hatfield, April Cooley and Larrry Martin. Larry wished he could join us.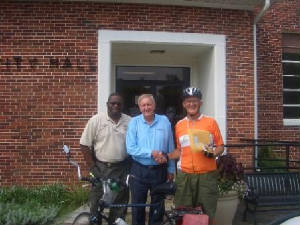 Now here's a story. In 1952 Grady McCalmon sat at his kitchen table with his mother and Adolph Rupp to see if he could play for U. of K.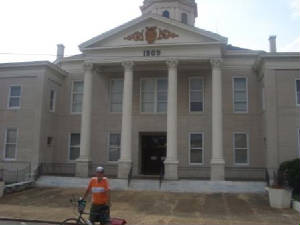 Rome, Ga... We rolled into Rome after hours. I run late because I am so facinated by everyone's stories.
When in Rome...???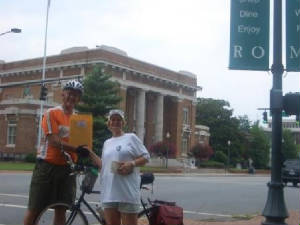 Rome, Ga...Augusta Spearman posed for a photo and said I will check this Fuller thing out. We gave her a packet.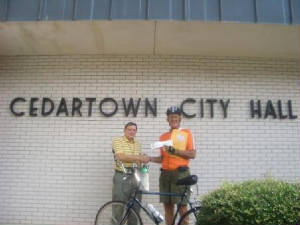 Cedartown, Ga...Tommy Engram accepted our Fuller challenge in Cedartown, Georgia and wished us a safe trip. He warned us about how you know a happy cyclist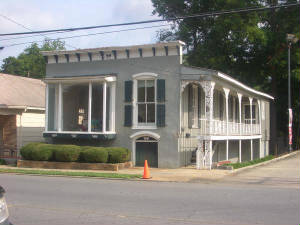 Southern architecture rears it's beautiful head.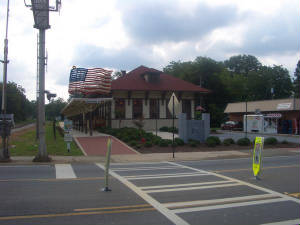 Trains beside me. Trains beneath me. Trains above me. I experienced them all on this trip.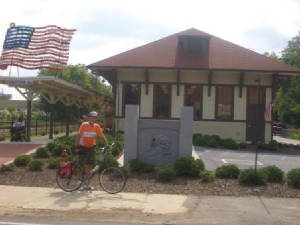 Most train depots are tourist centers today much like they were originally.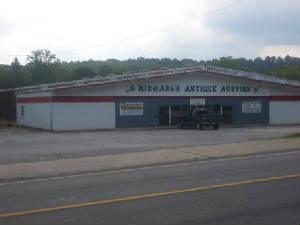 My son Michael got a kick out of this, since he takes the auctioneer exam in 2 weeks.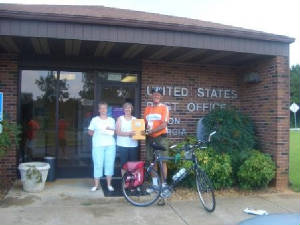 Felton, Ga...Felton was a small, but friendly community with Peggy Crook and Melissa Hardegree receiving the Fuller packet.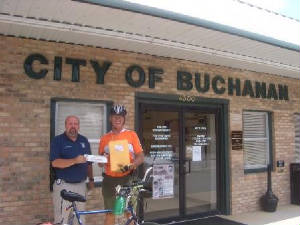 Buchanan, Ga...Sgt. Lee Carroll welcomed us to Buchanan and told us to be sure and eat at Gwen's Family restaurant.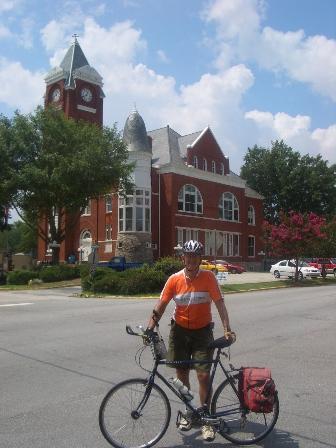 I toured the museum courthouse and made new friends there that were fascinated by our website.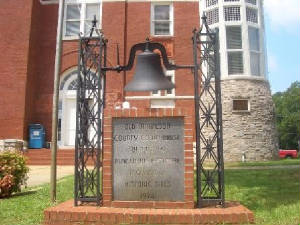 My second liberty bell on this trip. Let freedom ring.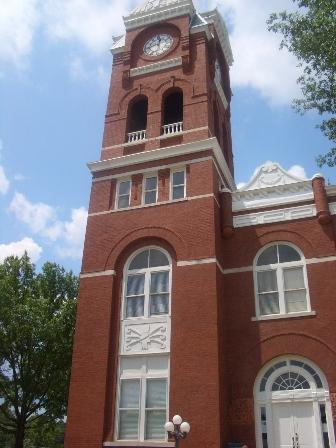 Close up of the old courthouse. There seems to be a rash of new Federal courthouses being built in this country. Wonder what that means.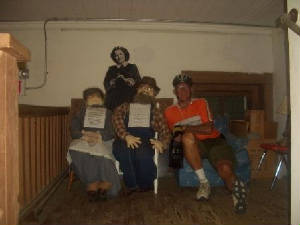 Hanging out with the guys in Buchanan museum.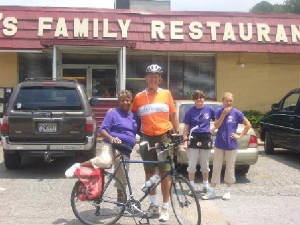 Martha Washington wanted to hop on and ride out of town with me.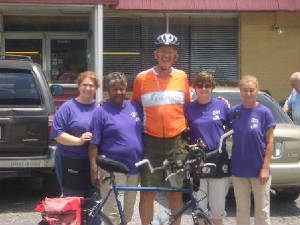 Martha,Donna Goodman, Ellen Cohran and Lisa Miller would like to invite you to eat at Gwen's.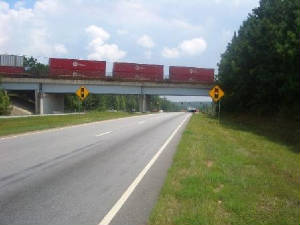 Like I said trains over me. About right here my old blue bike died and big red was pulled out.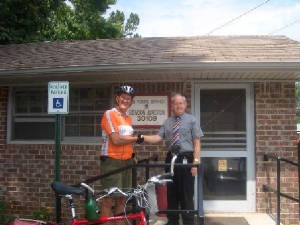 Bowden Junction, Ga...Postmaster Johnny Muse greeted us in Bowden Junction while one of his seasoned customers took the picture.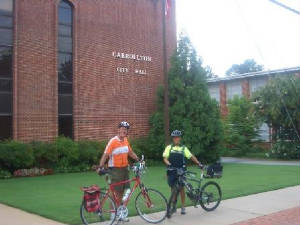 Carrollton, Ga...Officer Jeff Vaughn was our first bike cop. Jeff averages 30 miles a day in Carrollton.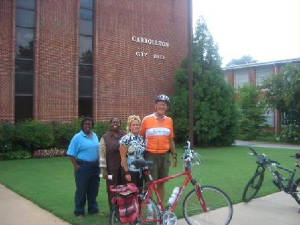 Welcome to Carrollton was an understatement with Lea Campbell, Wanda Johnson and Lisa Polk around. They gave us gifts of the city.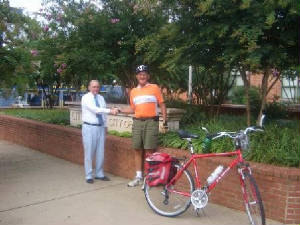 Newnan, Ga...R. A. Bolin greeted us in Newnan, Ga. with good wishes and directions.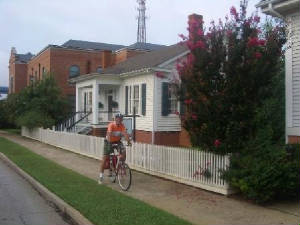 Southern architecture continues with a Tom Sawyer picket fence.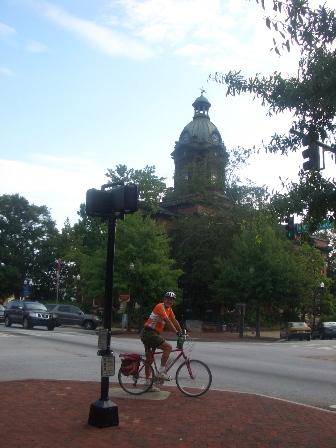 The old Newnan courthouse in it's stately splendor.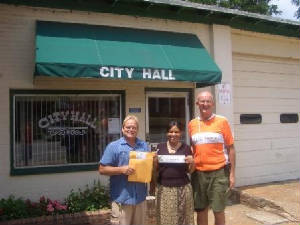 Greenville, Ga...Welcome to Greenville ~ Lee Scoggins and Everlene Wag were so excited to see us and hear about the Fuller Center.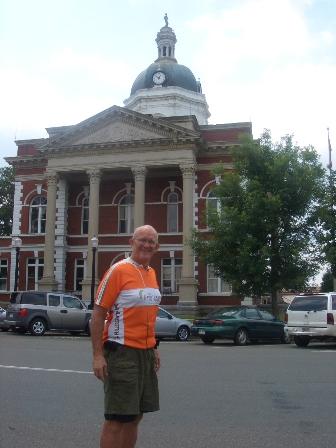 The Greenville courthouse is the center of attraction for all the residents to gather about.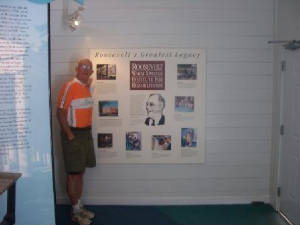 Warm Springs, Ga... Warm Springs became famous when Franklin D. Roosevelt discovered their 82 degrees mineral springs.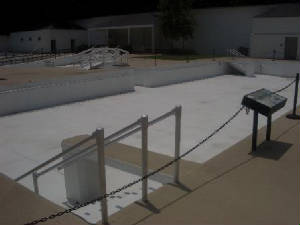 The Warm Springs pools were expanded by Roosevelt for all polio sufferors.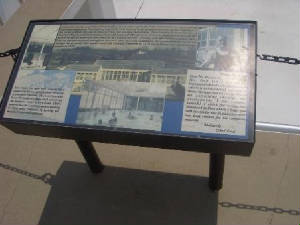 Warm Springs is a golden nugget of a find for the historical tourist.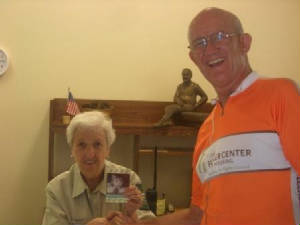 Suzanne Pike or Suzy as Roosevelt called her, was the highlight of my trip. For a personal story give me a call.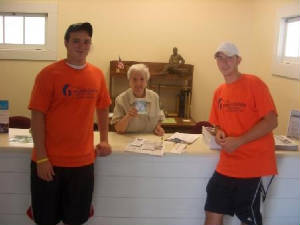 Suzy photographed with my sons Michael and Matthew. This lady is such a class act.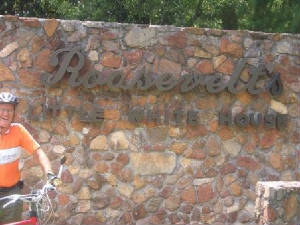 Roosevelt's little white house in Warm Springs.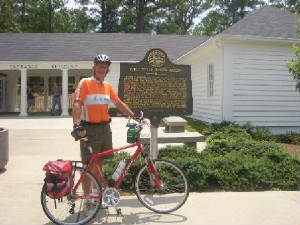 The mayor told us this is the only house Franklin D. Roosevelt ever owned.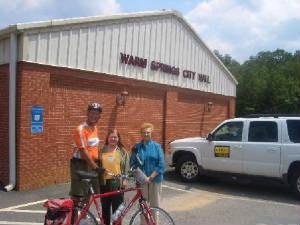 Warm Springs, Ga...MayorHazel Ramsey and Laura O'Neal welcomed the Fuller Center packet and want to know more. Hazel shared she had met 4 presidents.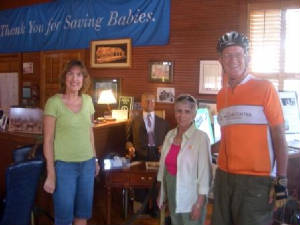 The train depot was rebuilt in Warm Springs because of Sabra. Good job.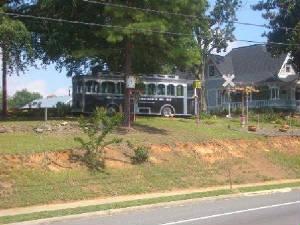 You may have guessed by now. I like Southern architecture.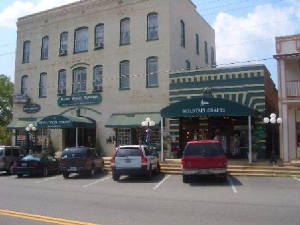 One more Warm Springs, Georgia and we are on the road again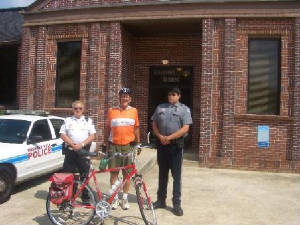 Waverly Hall, Ga...Chief Archie F. Hand and his 6 ft. 10 in. right hand man Jeremy Millirons welcomed the Fuller Center for Housing to Waverly Hall.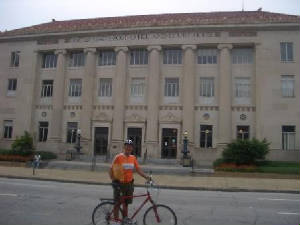 Columbus, Ga... Columbus accomplished. We spent the night here before heading to Plains. Morgan Kimbell received our package of Fuller info.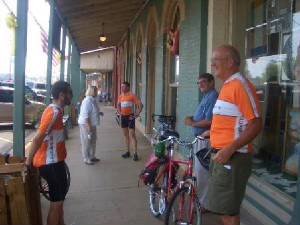 Plains, Ga...We rolled into Plains, home of President Jimmy Carter. The black suburbans of the secret service were everywhere.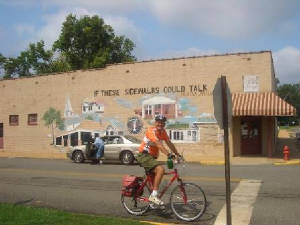 Biking in Plains waiting for all the Fuller bikers to gather for our ride into Americus.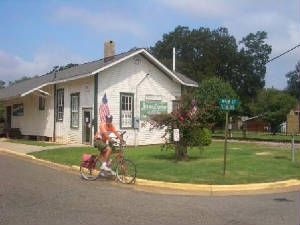 This is the train depot headquarters for the Jimmy Carter presidential campaign.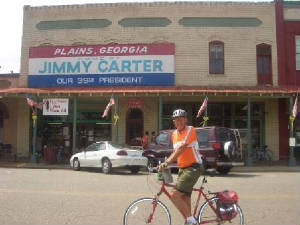 This is the largest political memorabilia supplier in the United States. According to the owner.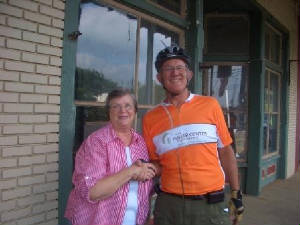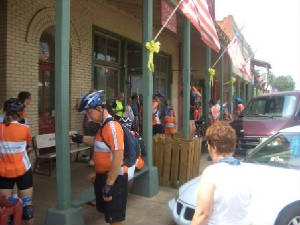 The Fuller Center bikers were like an invasion on Plains.